Macau's New Grand Lisboa Palace Expected To Open 'By The Second Half Of 2020′
Macau's New Grand Lisboa Palace Expected To Open 'By The Second Half Of 2020′
The boss of SJM Holdings Limited, a company which operates casinos located in Macau which has enjoyed a monopoly to the entire gambling industry in Macau up until 2002 has said that the Grand Lisboa Palace is expected to finish construction around the second half of 2020. It will then be able to start receiving customers and guests as it starts operating fully.
Ambrose So Shu Fai, the Chief Executive Officer of the Hong Kong-listed casino juggernaut's CEO had issued a statement which comes with the disclosure that the forthcoming $5 billion project's retail space is not expected to be fully leased when the time of the opening comes, based on a report given by GGRAsia.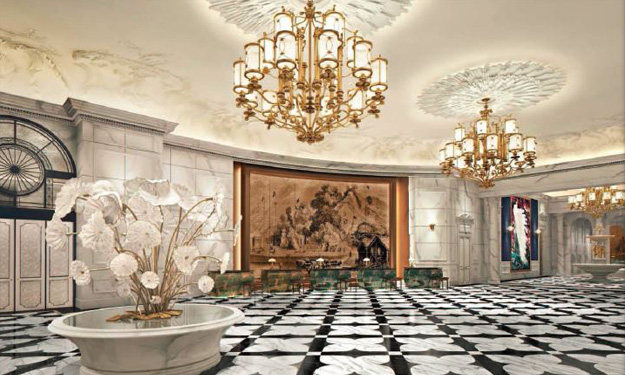 Eminent property:
Notable casinos such as the recent Emperor Palace Casino and the exemplary Casino Grand Lisboa are just part of the almost two dozen casinos located all across Macau which are operated by SJM Holdings Limited. Construction began on the Grand Lisboa Palace which will house 2000 rooms in 2014 during the month of February and has been ongoing since then. It was also disclosed previously that the completed Cotai Strip property will highlight three five-star hotels that are branded under Palazzo Versace, Grand Lisboa Palace, and Karl Lagerfeld appellation, along with a range of facilities from conference spaces to restaurants and shops.
GGRAsia was reportedly told by Ambrose So that the Palace might be launched partially by the second half of the year 2020. During that time, it is not expected that all the shops will be completely leased out but he believes that the casino should be officiated alongside all the hotel rooms as well as some of the shops.
Positive outlooks:
It is also reported that SJM Holdings Limited has high hopes that when the construction of the Grand Lisboa Palace is complete, it will be able to challenge and be on par with its neighbouring casino resort competitors, namely The Venetian Macao which is worth $2.4 billion operated by Sands China Limited and also the Studio City Macau worth $3.2 billion operated by Melco Resorts and Entertainment Limited.
In doing so, SJM has ambitions that the Grand Lisboa Palace will boost its gaming business. The CEO of SJM Holdings, Ambrose So has also announced that his company has been dealing with various problems economically throughout the year so far. These problems comprised of those caused by the ongoing trade war between the United States and China, and also the continuous demonstrations regarding politics in Hong Kong.
Besides that, Ambrose So has also mentioned that he aspires for his company to do as well as the previous year. He has said that those working in SJM desires that its gaming business in Macau will not see fewer profits compared to the previous years.
Dismay during the holidays:
The Chief Executive Officer has been reported to have remarked on his company's profits from the gaming business as not being up to par as expected throughout the Golden Week national holiday spanning throughout a week. This comes in spite of hotel room occupancy rates up to more than 90% in advance. He also noted that its VIP business is performing rather badly.
He had anticipated that the increased flow of customers will result in the generation of larger margins of profit, but reality shows the opposite happening. They observed an increased quantity of customers at their properties, but the casino business performed mediocrely.
See more exciting news below:
Latest posts by Doris Jensen
(see all)